A paw-fect match - we partner with Blue Cross
With our dog friendly stores, our range of dog sofas and our mission to help everyone feel at home on a sofa they love, here at Sofology, we know how much pets are part of the family. That's why we were delighted at the chance to partner with Blue Cross, the national pet charity that has been helping sick, injured, abandoned and homeless pets for over 120 years. Blue Cross has a mission to find happy homes for abandoned pets, and with a pet friendly fabric available across some of our sofa ranges, we're hoping to help them do just that.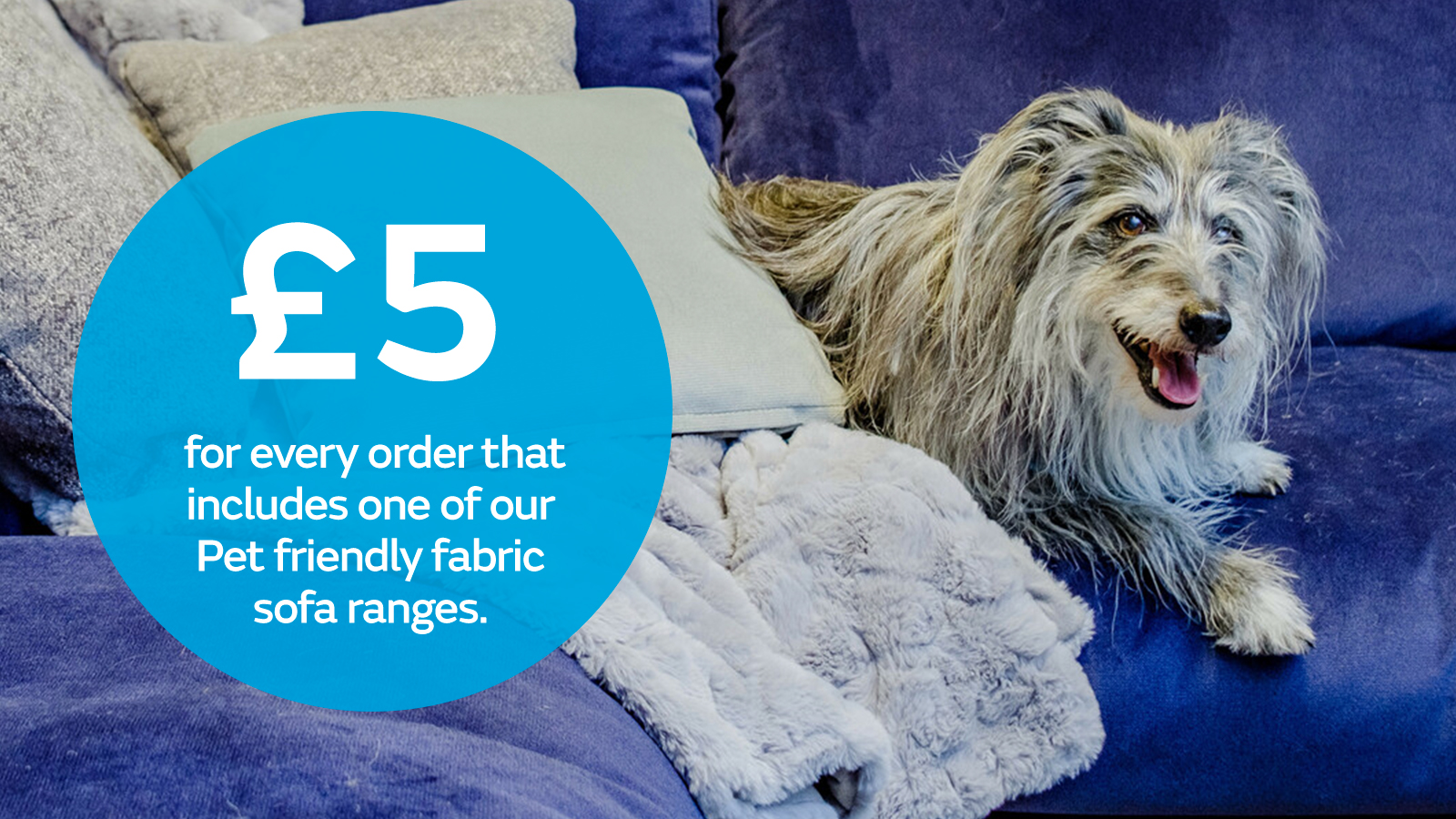 Our partnership with Blue Cross began in June 2021, with Blue Cross benefiting from a £5 donation from the sale of every order that includes our pet friendly fabric range - it's expected this partnership will raise £15,000. Blue Cross helps thousands of pets in need every month by providing veterinary care, expert behaviour help and finding them loving homes. They also offer education for current and future pet owners plus pet bereavement support for those who have lost their pet companion. With a donation of £20 a horse can receive much needed hoof care, or for just £2 a day a cat can be kept warm in one of the Blue Cross Centres.
Natalie Paweleck, Corporate Partnerships Manager at Blue Cross said: "We are delighted to team up with Sofology and are grateful for their support."

Blue Cross is a charity and relies on the support of corporate partners and animal lovers to help the many thousands of homeless, unwanted, sick and injured pets in its care every year. To find out more and see pets looking for homes, or to make a donation, visit bluecross.org.uk.

To see what happened when some of the Blue Cross rescue dogs visited our Cheltenham store to launch our partnership and try out some of our sofas - including the pet friendly range - visit our Sofological blog.
For the period 7th June 2021 - 6th June 2022, where an order is made on product(s) from the Sofology City Living Nordic Pet Friendly fabric range, £5 per order will be donated to Blue Cross. Blue Cross is a registered charity in England and Wales (224392) and in Scotland (SC040154).