Laura Heyworth: Taking the leap for CATTS
As the Manager of our Preston store, Laura Heyworth is accustomed to high pressure situations - keeping her store running smoothly, ensuring all of her Sofologists can do their job effectively and, most importantly, ensuring all of our customers have as much help as possible in finding a sofa they love.
After receiving a skydive from her partner for her birthday, Laura wanted to use it to benefit a good cause - helping one of our charity partners, CATTS (Cancer Awareness in Teens and Twenties) by raising £347 to fund the vital work they do. We spoke with Laura to discuss her latest adventure - taking a leap for CATTS.
How did you decide on doing a skydive for CATTS?
My partner bought me a skydive as a birthday present this year, which had to be postponed due to lockdown. However, when I was given the present, she had already arranged through work that she was going to pay for it and that we were going to use it to try and raise money for CATTS, one of Sofology's charity partners. So, suddenly I was going to jump out of a plane at 15,000 feet, the highest skydiving height in the UK, and I was going to raise money for CATTS at the same time. I was really excited to do it but also really nervous!
Do you have regular contact with CATTS?
The CATTS charity has come to our store to meet us a few times in the past, but with the current Covid-19 situation, our latest update was done by a Google hangout video call. They keep us up to date with how they use the money we raise, and the great things that the charity are doing every day. They show us all the different fundraising that they are doing, and they update us with how much we have raised for them, which ultimately is a really proud feeling!
How important is the work CATTS does?
Personally I feel this charity is something that will be close to many people's hearts and lives, not always with the age that the CATTS charity aims to support, but definitely with the terrible illness. For me it is personal in both ways, having had family members close to me affected, so I wanted to do something myself to raise some money outside of my store. Raising awareness is always important, as it ensures people are always on the lookout for signs and symptoms - young people are also at risk, which is why the work CATTS do is so important.
Did you enjoy skydiving?
Skydiving is something that almost everyone says "I'd love to do something like that", including me, but did I actually mean it? I'm not so sure! But now I've done it, I know that I absolutely loved it! I would urge anyone wondering if they could do it to definitely give it a try! The feeling of almost flying, the adrenaline pumping and the views just made it spectacular!
It was exhilarating - the minute I landed, I said I would definitely do it all again!
How does it feel knowing that your skydive has helped to do some good?
I'm really pleased that I have raised £347 for CATTS, although the event ended up being a last minute booking due to Covid-19. I wish I would have had more time to raise money once I had a date booked, but I was still really lucky that I got some generous donations from friends, family and work colleagues. I'm glad that the money will help support people going through a difficult time in their lives, and to raise awareness of this terrible illness.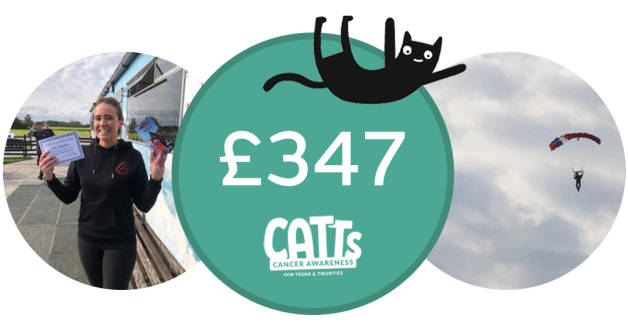 Discover more about our partnership with CATTS
Find out more about the work CATTS does
Donate to CATTS here