International Women's Day: Beyond the Bias
by Lisa Hurst
Celebrating International Women's Day, in line with this year's theme, we asked our Sofologists to imagine what a world free from bias looks like to them. Here we hear from one of our inspiring team, about her experiences and our commitment to action on equality.
When Life Changes

Who else thinks the moment you become a parent is the moment you have constant questions, anxiety and guilt?
Are they drinking enough ounces of milk, are they hitting their milestones, rolling over, sitting up when they should be, do they sleep enough, are they gaining enough weight, or too much weight, can they hold a pencil, can they thread a piece of string through a cheerio?! Every little detail is pondered, recorded and judged by you and, in what might just be in your head, by others.
Then it comes to heading back to work after many months of your life being completely consumed by this small, loud, but tiny human, experiencing emotions you never knew existed… and that's when things take a shift.
Am I working hard enough at work, am I giving enough at home, others can take those early morning calls, or aren't worried if a meeting runs after 5pm but you have to get to nursery before it closes, will you be judged at work for getting off 'early', will you be judged at nursery for being the first to drop off and last to collect? Some days everything works perfectly, and others you feel like you're failing at both and here comes that never ending guilt.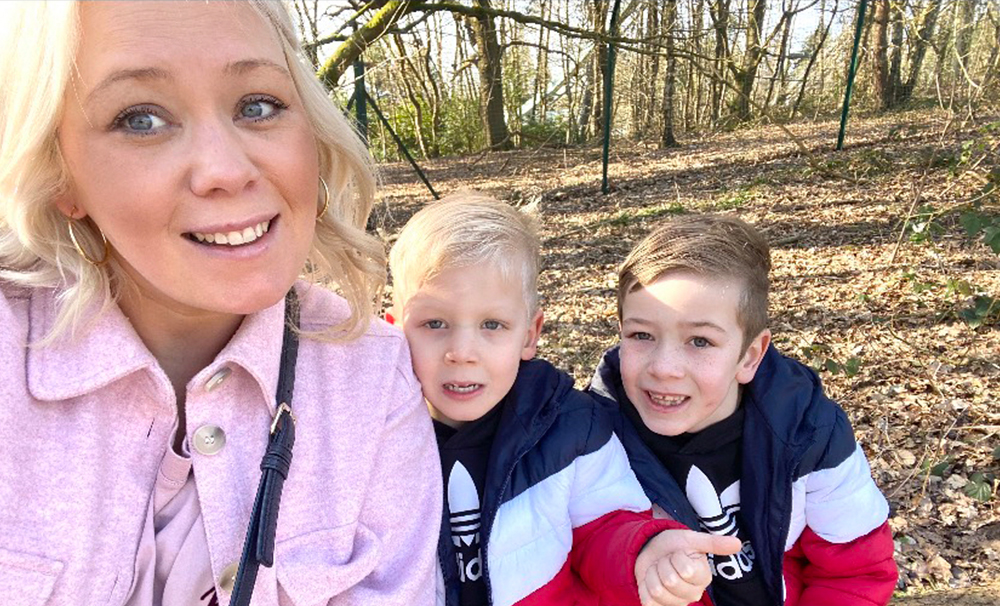 The expectations, finding 'the balance'
I read a quote once, it was something along the lines of women need to work like they don't have children and raise children like they don't have a job. That bias and the focus on 'women' makes me angry, but luckily that is not how my journey has panned out. Never have I felt that I can't do both. Yes there have been times I have seen shocked expressions when mentioning my children and the ages of them, and I have had people say how can you work full time, travel for work and have pre-school aged children.. But not once has my husband been faced with this. This is a bias we need to break.
Trying to strike that balance between being everything you want to be at home, without sacrificing the desire for that next step in your career and without other people doubting whether you can do it all is hard. Really hard. Having a supportive manager and working for a business who appreciate talent, in all forms, regardless of commitments at home is what makes it less difficult.
Before I left work to go on my second stint of maternity leave I was really concerned about what that meant for my job, would I miss out on opportunities? Would I be remembered? or thought of if opportunities arose? Luckily I didn't need to be concerned, and for me my story led to being offered a promotion whilst I was on maternity leave, with the excitement of returning to work several months later to the job I had worked for, studied for, and aspired to get for several years. Having children didn't stop that opportunity for me!
Breaking the Bias - Sofology style
I'm not going to lie, I was shocked to be proven wrong, I almost must have been biased against myself, however the positive experience I had is one of the main drivers I have to champion that for others! It's so important to encourage everyone to 'Break the Bias', especially if that bias is against themselves. Sofology, as a retail business, one in the furniture industry, which historically was a predominantly male environment, has been open and upfront about a passion to create a change.
Perception
Furniture retail - male, full time, hard sales, commission paid - that was how it used to be, nobody could argue that. Don't get me wrong there are so many inspirational men working for this business, (like really inspiring and just brilliant) but in the past there was an obvious lack of women, and that just didn't make for an inclusive environment. So, we had to do things differently.
Since the beginning of our journey to inclusion, we have pioneered so many fantastic projects and results:
Our part-time strategy across all retail stores
Encouragement & genuine conversations
New cohorts of our 'next generation' management development programme (now open to part time colleagues)
Tailored attraction strategy to encourage a more diverse talent base
Inclusion campaigns businesswide
Learning modules and instructor led workshops to educate us all on what it means to be inclusive
A near 50/50 gender split of leaders both in retail and the business overall.
I have to say, the most powerful armory that's driven the possibility to 'Break the Bias' is our people, our colleagues recognised the need for a change, and embraced the possibility of gender equality within Sofology, so they made it happen!
Where are we now?
There are now so many stories out there of women who couldn't work full time, or didn't have 'sales' experience, or had gaps in their CV's due to raising a family, who have now joined the business and been extremely successful - and celebrated for it!! Women who, due to bias, and stereotyping might not have looked to a business in furniture retail for work, let alone a career.
That world has changed, we have so many stories within Sofology of women, recruited on part time contracts, women recruited as managers, women developed to be managers and women promoted during maternity leave. I see time and time again, single mums offered opportunities to work part time and earn great money (sometimes double what they'd earned before) in a sales role, who previously just wouldn't have had that opportunity.
Historically, a male dominated sales force drove a male dominated leadership team, in recent years we have seen a more equal gender sales force which has inevitably driven a more equal gender leadership team. We all know that motivating thought - 'if they can do it why can't I' can spur us on, so by inspiring each other and seeing examples of breaking the bias is forming a more equal and inclusive workplace.
The most powerful part of our business is that of our people; our colleagues who recognised the need for a change, and embraced the business' focus on inclusion, our male colleagues who have become allies and championed the women around them. I for one could not be prouder to work for Sofology and alongside all of our amazing colleagues, and I cannot wait to continue supporting inclusion as we continue to #breakthebias.